1) At the end of the last post I said I would upload a proper post-blocking shot of my shawl. Due to really bad lighting conditions, the last few days of the Fringe and a lovely post-Fringe cold, I completely forgot. So here's the finished shawl.
And here's a shot of what it will look like when I wear it.
Or what it would look like if I were a hanger.
2) A while back, I posted about putting a lovely alpaca shawl in the washing machine. I never got around to taking a nice photo of the final result. So in the interests of completeness, here it is. The photo doesn't do justice to how snuggley and warm it now is.
3) Last, but by no means least, I got a lovely birthday present in the post from my friend Evin. She made me a lovely needle case a few years ago for Christmas, which holds most of my interchangeables. Now to join that she has given me a lovely Lantern Moon fan case  which has become a beautiful home for my square needle interchangables. I have to admit, there were gasps of amazement when I opened that package!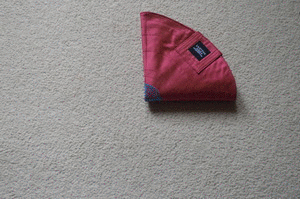 Magic!